Standard Delivery £6.50
(Up to 1-3 working days) (Dispatch day Monday to Friday Dry Goods only).

Click & Collect
Order online and collect from our Newcastle store between 11am and 8pm every day.

In-Store Exclusives
Visit us in-store in Newcastle for amazing exclusive offers!
SALE

SALE

SALE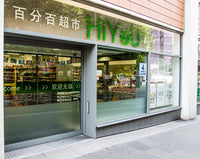 UK's Prominent Asian Online Oriental Supermarket
HIYOU is Newcastle's leading Asian online oriental supermarket for grocery items. We are a Thai, Japanese, Vietnamese, Chinese food store, offering great food from the Asian continent. Established in 2011, HIYOU is a premium Asian supermarket online, based in the UK in Newcastle. When we first opened to the public, our vision was to make Asian food more accessible to the general public, and our store is user friendly and welcoming.

Popular with locals and overseas students, our Asian food store (and our online store) offers a whole new shopping experience. If you are looking for an Asian food store near me, our in-store kitchen produces delicious, innovative, and affordable fresh hot meals, and we have an incredibly wide variety of fresh and frozen produce for you to browse in-store or through our oriental supermarket online.
Now, we want to make Asian produce accessible to everyone, no matter where you are based. Our Asian grocery shop, online in the UK, can be accessed from the comfort of your own home for you to experience a unique culinary sensation.

Our Asian and Japanese online supermarket in the UK is dedicated to making all of our wonderful products accessible to anyone. We want you to enjoy oriental cooking, not find it a challenge!
We aim to:

• Provide good quality and authentic Asian produce at affordable prices
• Make sure you can easily order via our UK Asian Supermarket online
• Easy and hassle free Asian supermarket delivery where we aim to deliver your products on time, well packaged and fresh direct from our Asian supermarket in Newcastle
• Offer excellent customer service from our friendly and helpful team who are knowledgeable about all products and services that our Chinese supermarket online offers.

Our team always puts you as the customer first, and we want to be able to help you choose the best quality products from our Vietnamese supermarket and Thai supermarket online and in store.

What are the pros and cons of buying grocery items from our Asian food store online vs in store?

Here at HIYOU, we are an Asian supermarket in Newcastle that specialises in oriental food products and merchandise. As well as offering a fantastic shopping experience in store, we also offer Asian supermarket delivery – but which is the better option?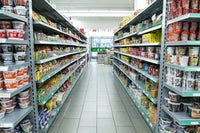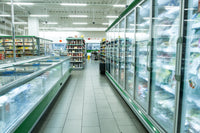 Some of the benefits of using our oriental supermarket online include:
• You can order groceries any time as our Japanese supermarket online in the UK is open 24/7
• You can have it delivered wherever you like! You don't need to take time out of your weekend, simply choose an Asian online food shop and get fresh groceries delivered right to your door.
• You can choose a time slot for your convenience to make sure you don't miss your delivery
• We choose the most fresh products for your Asian food shop, so you won't have any waste.
• You don't have to worry about crowds or parking when you are browsing our Thai online supermarket. Simply log into your online Chinese supermarket account from your computer or your phone and browse without the crowds.
• You can see special offers and pricings when you are online instead of scouring the Chinese supermarket near me, we want to make sure that you get the best deals possible!

You can browse our online UK Asian grocery shop from the comfort of your own home! We have added as much information about our products to make your shopping experience as easy as possible, and our friendly team is always on hand with any questions or queries you may have.

If you are looking to visit our Asian and Vietnamese supermarket in person, then you can expect a totally different shopping experience. With our restaurant and cakery in store, you can experience all the smells of oriental cooking without leaving Newcastle. We also have a wide range of food products, beverages, tableware, cookware, kitchenware, and herbal medicines so you can browse to find exactly what you are looking for. Our aim is to bring Asian products to an easy and convenient place for you, so you don't have to worry!
It is not always about the money!
When you are looking for the perfect online Chinese supermarket for your Japanese food shop and Asian groceries, many people think that the biggest benefit will be the low-cost, high-quality ingredients – but here at HiYou we are so much more!
We pride ourselves on sharing our food culture and making Asian groceries more accessible for everyone - no matter where you live! You can come and enjoy our Asian shop in Newcastle if you want to try something a little different and be enticed by all the exciting colours and smells that our Japanese food shop has to offer. Don't worry if you live further away, our online Asian food shop delivery will mean that you can enjoy our whole range of Asian groceries without making a long trip. We aim to ensure that you get your online Asian shop full of fresh produce and new dishes to try delivered straight to your door at a time that is convenient for you. So, what are you waiting for? Try something new today and browse our huge range now!