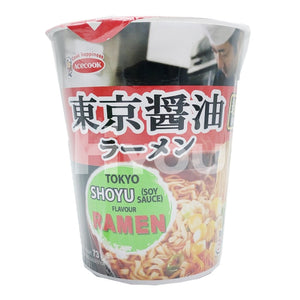 Product Details
 Ingredient: Noodles (75.8%): Wheat Flour: Starch, Vegetable Oil (Palm Oil, Antioxidant (Butylated Hydroxyanisole (E320), Butylated Hydroxytoluene (E321), Salt, Flavour Enhancer (Monosodium, Glutamate (E621), Emulsifier (Sodium Carboxymethyl Cellulose (E466), Acidity Regulator (Triphosphates (E451)). Isole (E320), Butylated Hydroxytoluene (E321), Soy Sauce (Soybean, Wheat Salt), Sugar, Flavour Enhancers (Monosodium Glutamate (E621), Disodium Inosinate (E621, Disodium Inosinate (E631), Disodium Guanylate (E627), Salt Dried Carrot, Soy Sauce Flavour, Yeast Extract, Dried Corn, Spices, Fish Powder (Yellowfin Tuna), Soy Sauce Powder 9Wheat, Soybean), Chicken Flavour 9Barley, Milk), Dried Leek, Colour (Plain Caramel (E150a), Anti-caking Agent (Silicon Dioxide (E551), Starch, Garlic Flavour, Acidity Regulator (Citric Acid E330), Preservative (Potassium Sorbate (E202).
Nutrient: per 100g: Energy: 1878kJ/448kcal, Fat: 21 g, of which saturates: 11g, Carbohydrate: 55g, of which Sugar: 5.8g, Fibre: 3.1g, Protein: 8.3g, Salt: 4.5g.
Delivery Information
---
Fresh & Frozen food additional packaging surcharging £4.99 for the first 5 items, add £2.50 for every 5 additional items purchased after.