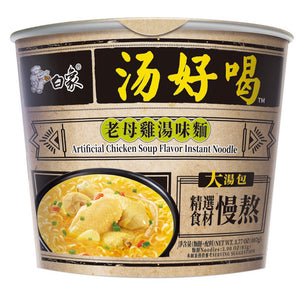 Product Details
Ingredient: Noodles Packet: Wheat Flour 50.4%, Palm Oil, Tapioca, Stabiliser: E1420,Gluten Powder, Salt, Acidity Regulator: E339, E500, Stabiliser: E452i, Sodium Polyacrylate, Thickener: E401, E412, Emulsifier: E471, Preservative: E319. Soup Packet (Average 20g): Palm Oil, Salt, Ginger, Carrot Powder, Red Onion, Onion, Food Flavour (Soybean Oil, Ginger Oil, Chinese Angelica Oil, 4-Hydroxy-2, 5-dimethyl-3 (2h)-Furanone, Soybean, Peanut), Water, Sesame Oil, Flavour Enhancer: E621, Sugar, Yeast Extract, Mushroom Powder, Hydrolyzed Vegetable Protein (Acid Hydrolyzed Vegetable Protein Seasoning (Soybean, Wheat, Water), Maltodextrin, Salt, Flavour Enhancer: E621, E627, Rhizomakaempferiae Powder, Angelica Dahurica Powder, White Pepper Powder, Licorice Powder, Star Anise Powder, Dried Tangerine Powder, Fennel Powder, Cinnamon Powder, Cardamom Powder, Sichuan Pepper Powder, Thickener: E412, Curcuma, Colour: E160c. Vegetable Packets: Dehydrated Carrots, Dehydrated Scallion.
Nutrient: per 100g: Energy: 1884kJ/450kcal, Fat: 18.7g, of which saturates: 0g, Carbohydrate: 59.8g of which Sugar: 2.8g, Fibre: 0g, Protein: 10.3g, Salt: 5.5g.
Delivery Information
---
Fresh & Frozen food additional packaging surcharging £4.99 for the first 5 items, add £2.50 for every 5 additional items purchased after.