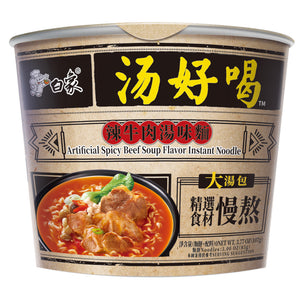 Product Details
 Ingredient: Noodles Packet: Wheat Flour 50.4%, Palm Oil, Tapioca, Stabilizer: E1420, Gluten Powder, Salt, Salt, Acidity Regulator: E339, E500, Stabilizer: E452i, Sodium Polyacrylate, Thickener: E401, E412, Emulsifier: E471, Preservative: E319. Soup Packet (Average 20.8g): Palm Oil, Salt, Water, Food Flavour (Star Anise Oil, Chilli Oleoresin, Ginger Oleoresin, Black Pepper Oil, 2, 4-Decadienal, Soybean Oil), Yeast Extract, Carrot Powder, Glucose, Red Onion, Flavour Enhancer: E621, Curry Powder, Fennel Powder, Cumin Powder, Cardamom Powder, Tsaoko Powder, Star Anise Powder, Cinnamon Powder, Clove Powder, Sichuan Pepper Powder, Angelica Dahurica Powder, Rhizoma Kaempferiae Powder, Galangal Powder, Garlic Powder, Black Pepper Powder, White Pepper Powder, Ginger Powder, Yellow Onion Powder, Nutmeg Powder, Hydrolyzed Vegetable Protein Powder (Acid Hydrolyzed Vegetable Protein Seasoning (Soybean, Wheat, Water), Maltodextrin, Salt, Flavour Enhancer: E621), Soy Sauce (Water, Soybean Extract, Salt, Wheat Flour), Flavour Enhancer: E621, E631, E627, E635, Sugar, Preservative: E202, Colour: E150a, Yeast Extract, Stabilizer: E1420, Colour: E150a, E160c. Vegetable Packets: Dehydrated Cabbage, Dehydrated Carrots, Dehydrated Coriander, Dehydrated Scallion.
Nutrient: per 100g: Energy: 1846kJ/441kcal, Fat: 18.7g, of which saturates: 0g, Carbohydrate: 57g of which Sugar: 2.8g, Fibre: 0g, Protein: 9.3g, Salt: 7.4g.
Delivery Information
---
Fresh & Frozen food additional packaging surcharging £4.99 for the first 5 items, add £2.50 for every 5 additional items purchased after.