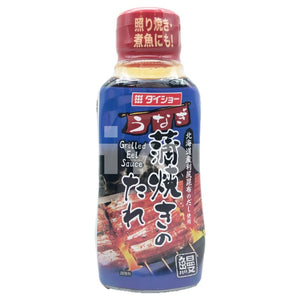 Product Details
Ingredients: Soy Sauce (Salt, Defatted Soybean, Wheat (Gluten), High Fructose Syrup (Corn, Potato), Ethanol), Starch Syrup, High-Fructose Corn Syrup, Light Brown Sugar, Sweet Cooking Wine (Sticky Rice, Rice Malt, Fermented Alcohol, Glucose Syrup Corn, Cassava, Potato, Sweet Potato), Colour (E150a), Alcohol, Refined Sake, Thickener (E1422, E415), Flavour Enhancer (E621, E635), Kelp Extract, Yeast Extract, Vegetable Oils and Fats (Rapeseed), Water, Alcohol (Processing Aid).
Nutrient: per 100g: Energy: 772.8kJ/184kcal, Fat: 0.2g, of which saturates: 0.01g, Carbohydrate: 42.4g of which Sugar: 25.9g, Fibre: 0g, Protein: 3.2g, Salt: 6.1g.
Delivery Information
---
Fresh & Frozen food additional packaging surcharging £4.99 for the first 5 items, add £2.50 for every 5 additional items purchased after.