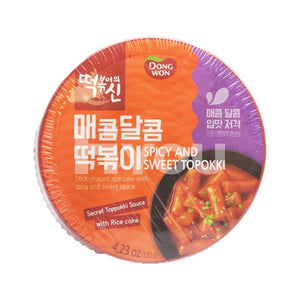 Product Details

Ingredient: Rice Cake: Rice, Salt, Alcohol, Food Acid (E300), Dietary Fibre, Rice Bran. Sauce: Sugar, Red Pepper Powder, Glucose (Corn Starch), Salt, Flavour Enhancer (E621), Mixed Seasoning: (Rice Flour, Red Pepper Powder, Salt, Garlic Powder, Glucose), Green Onion Flakes, Wheat (Cereals Containing Gluten) Flour, Modified Starch (Acetylated Distarch Adipate), Onion Powder, Corn Starch, Flavour Enhancer (Corn Starch, Sugar, Yeast Extract, Salt), Yeast Extract, Mixed Seasoning (Hydrolyzed Protein, Maltodextrin, Salt), Black Pepper Powder, Silica Dioxide, Colour (E160c), Thickener (E412), Mixed Seasoning HYB (Hydrolyzed Soy Protein (Soya), Salt, Maltodextrin.

Nutrient: per 100g: Energy: 1010.6kJ/241.5kcal, Fat: 0.5g, of which saturates: 0g, Carbohydrate: 56.6g of which Sugar: 10.8g, Fibre: 1.6g, Protein: 4.1g, Salt: 1.0g
Delivery Information
---
Fresh & Frozen food additional packaging surcharging £4.99 for the first 5 items, add £2.50 for every 5 additional items purchased after.