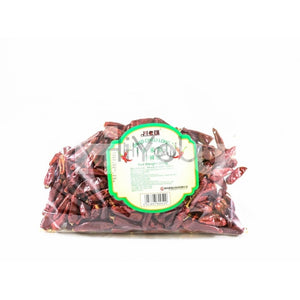 Product Details
Storage Condition: Keep away from direct sunlight and store in a cool dry place. Keep refrigerated.
Ingredient
Dried Chilli (100%).
Brand

Chuan Lao Hui


Dried red chili is a condiment that adds pungency to your food. It is fried in hot oil which turns it dark in colour and gives a lovely flavour to the dish. Dry Red Chilli is an extremely useful store cupboard staple which is easy to find in an online Asian Grocery which can be used in a variety of ways.
Dried Long Red Chillies can be ground down in a pestle and mortar or food processor to make chilli powder – although if you do this we recommend that you wear a mask because you absolutely do not want to breathe in the dust! You may prefer to mash your Dry Red Chilli up with other spices and herbs in a little oil or water to make a chilli paste. Either can be used to add a spicy kick of flavour to soups and stews.
Dry Red Chilli can also be partially rehydrated by soaking it in hot water for about ten minutes. You can then roughly chop your Dried Long Red Chillies and use them as a garnish or to add an interesting texture as well as a spicy flavour to your dish. There really are no limits to the uses of Dried Long Red Chillies – they can be used in soups, stews and curries. They can be used to make hot sauces or fermented foods such as Kim Chi.
Storage
Store your Dry Red Chilli in a cool dry place away from direct sunlight. This is a product with a very long shelf life, but always take note of the use by date on the packet.
Every bag of Chuan Lao Hui Dried Long Red Chillies contains nothing but 100% Dried Red Chilli. This product is free of any artificial ingredients.
Delivery Information
---
Fresh & Frozen food additional packaging surcharging £4.99 for the first 5 items, add £2.50 for every 5 additional items purchased after.