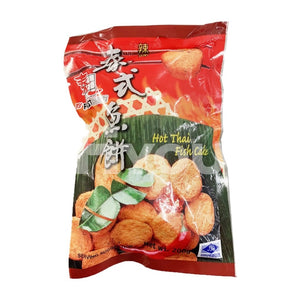 Product Details

Ingredients: Fish Paste (Potein of Threadfin Beam (Nemipterus spp.) and Purple - Spotted Bigeye (Priacantus tayenus) caught in Indian Ocean/Pacific Ocean, FAO:57/71 (71.00%), Water, Curry Paste (Chilli, Lemongrass, Garlic, Pepper, Curcuma, Galingale, Shallot), Vegetable (Citrus Leaf, Long Bean), Sugar, Potato Starch, Vegetable Oil (Soybean, Palm, Coconut), Salt, Flavour Enhancer (Monosodium Glutamate (E 621), Sorbitol (E 420), Stabilizer (E 450iii, E 451i).

Nutrients: 100g PER SERVING: Energy 462kJ/111kcal, Fat 3.1g , of which saturates 2g, carbohydrate 8.4g of which sugars 2.5g, Protein 12.4g, Salt 0.7g
Delivery Information
---
Fresh & Frozen food additional packaging surcharging £4.99 for the first 5 items, add £2.50 for every 5 additional items purchased after.