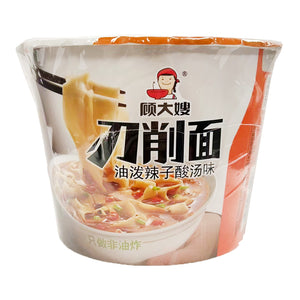 Product Details
Ingredient:
Noodles: wheat flour, preservative (E1420), gluten, edible salt, emulsifier (E1413), antioxidant (E401), emulsifier (E500), acidity regulator (E501), emulsifier (E451i), emulsifier (E450i0, acidity regulator (E339), emulsifier (E450), colour (E164). Powder sachet: edible salt, flavour enhancer (E621), white sugar, maltodextrin, beef powder (beef, beef bone, edible salt, starch, flavour enhancer (E621), food flavour), sesame, yeast extract, flavour enhancer (E635), antioxidant (E330), dehydrated coriander, spices, emulsifier (E412), preservative (E296), emulsifier (E551). Sauce sachet: refined palm oil (including antioxidant (E319), edible salt, edible butter (antioxidant (E306)), soybean paste (preservative E211), beef paste (beef, edible salt, edible glucose, water, starch, spices, food spices), yeast extract, raw garlic, ginger, chilli powder, brewed vinegar, brewed soy sauce, food flavours, spices, chilli oleoresin. Chilli oil sachet: palm oil (antioxidant (E319), oil chilli powder, sesame. vinegar sachet: brewing vinegar.
Nutrient:
per 100g: Energy: 1608kJ/384.15kcal, Fat: 11.4g, of which saturates: 0g, Carbohydrate: 7g, of which sugar: 2g, Fibre: 0g, Protein: 60.1g, Salt: 7697.5mg.
Delivery Information
---
Spend £60 for discounted delivery
---
Fresh & Frozen food additional packaging surcharging £4.99 for the first 5 items, add £2.50 for every 5 additional items purchased after.