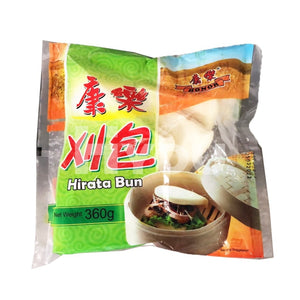 Product Details
Ingredient: Wheat (Gluten) Flour, Water, Yeast, Baking Powder, Sugar
Nutrient: per 100g: Energy: 1120kJ/264kcal, Fat: 2.5g, of which saturates: 0.7g, Carbohydrate: 50.4g of which Sugar: 4.1g, Fibre: 0g, Protein: 9.2g, Salt: 0.1g
Hirata buns are Japanese steamed buns filled with pork chashu, tempura, karaage, or other fillings. Also known as a "Bao Buns", the Hirata Bun is an Asian street food staple that with the rise of the Chinese Supermarket UK foodies are beginning to embrace with enthusiasm.
Hirata Buns are steamed and folded soft bread buns usually served warm and filled with slow-cooked meat, crunchy salad and pickles, and a sticky sauce. They are deliciously tasty bite-size snacks that are incredibly versatile – you can serve them as a sweet or savoury snack, so there is a delicious filled Hirata Bun for every occasion.
100g of Honor Hirata Bun provides 1120kJ of energy, 2.5g of Fat (of which saturates: 0.7g), 50.4g of Carbohydrate (of which Sugar: 4.1g), 9.2g of Protein and 0.1g of Salt.
Hirata Buns are made using Wheat Four (contains Gluten), Water, Yeast, Baking Powder and Sugar.
Delivery Information
---
Fresh & Frozen food additional packaging surcharging £4.99 for the first 5 items, add £2.50 for every 5 additional items purchased after.