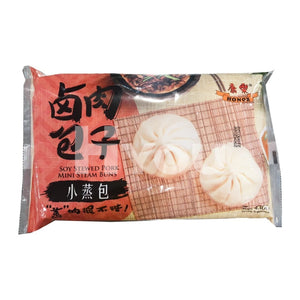 Product Details
Ingredient: Bun Casing: Wheat (Gluten) Flour 25%, Water, Lard, Yeast, Baking Powder, Sugar. Bun Filling: Pork Belly 30%, Preserved Cabbage (Cabbage, Garlic, Salt) 3%, Spring Onion, Water, Rapeseed Oil, Ginger, Soy Sauce (Contains Water, Soybean, Wheat Flour), Chicken Powder (Contains: Maltodextrin, Corn Starch, Sugar, Chicken Meat & Fat, Milk & Egg Derivatives, Flavour Enhancers (E621, E631, E627), Spices), White Pepper, Five Spice Powder (Cinnamon, Anise, Fennel, Cloves, Dried Ginger).
Nutrient: per 100g: Energy: 1211kJ/289kcal, Fat: 13.7g, of which saturates: 4.4g, Carbohydrate: 29.2g of which Sugar: 3.4g, Fibre: 0g, Protein: 11.5g, Salt: 0.87g
Delivery Information
---
Fresh & Frozen food additional packaging surcharging £4.99 for the first 5 items, add £2.50 for every 5 additional items purchased after.