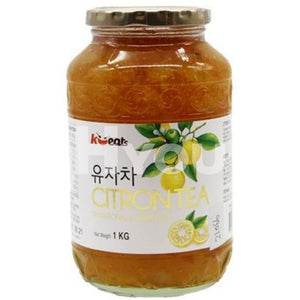 Product Details
Ingredient
: citron, sugar, fructose, food acid E330, anti-caking agent E460, vitamin C, water. May also contain trace of Honeynn
Nutrient
: Per 100g Serving: Energy: 1083KJ/259kcal, Fat 0.1g, Of which Saturates: 0.1g, Carbohydrate 64.1g, Sugar 61.6g, Fibre 1.0g, Protein 0.4g, Salt 0.03g.

Citron Tea is a very popular cold remedy, riched vitamin C. Keats Korean Yuja tea is 100% original and fresh which gives an amazing aroma and delicious taste.

Why not start your day with a vibrant explosion of tangy vitamin loaded flavour that is rich in Korean culinary tradition but perfectly suited to the demands of a modern British breakfast?
Citron Tea is a traditional Korean beverage that is perfectly suited to modern sensibilities because of its variety of sweet and nutritious aspects. Fragrant and fresh, sharp and refreshing citron tea is sold in jars and to British eyes resembles a marmalade-like jam made from Korea's traditional yuja citrus fruit and sugar.
Yuja tea delivers tartly sweet spoonful's of sour and tangy fruit and simply could not be easier to prepare. It is easy to dissolve Citron Tea into water for a drink that is refreshing and rich in vitamin C. Served hot it is the perfect antidote chills, or try it chilled over ice for some zesty thirst quenching refreshment on a hot day. Keats Citron Tea is so versatile you can even spread it on crackers or hot toast for a fragrantly tart alternative to marmalade of honey. Drop a spoonful into Greek yoghurt, or even porridge. A deliciously caffeine free beverage, Yuja Tea is immensely popular in our Korean Supermarket and will bring a welcome taste of Seoul to your breakfast table.
 Keats Citron Tea is a natural product containing citron fruit, sugar, fructose, food acid E330, anti-caking agent E460, vitamin C, and water. There may also be traces of Honeynn. Per 100g serving Citron tea contains Energy: 1083KJ/259kcal, Fat 0.1g, (of which Saturates: 0.1g), Carbohydrate 64.1g, Sugar 61.6g, Fibre 1.0g, Protein 0.4g, Salt 0.03g. Store in a cool dry place.
Delivery Information
---
Spend £60 for discounted delivery
---
Fresh & Frozen food additional packaging surcharging £4.99 for the first 5 items, add £2.50 for every 5 additional items purchased after.