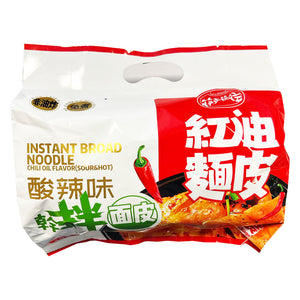 Product Details
Ingredients:
Noodle: Wheat Flour, Palm Oil, Salt.
Oil Base: Palm Oil, Rapeseed Oil, Chili, Sesame, Shallot, Ginger, Chinese Prickly Ash Powder, Spices(Star Anise, Fennel, Cinnamon), Chili Flavoring(Dried Chili , Maltodextrin), Sesame oil Flavor.
Sauce Base: Fermented Vinegar, Salt, Flavor
Enhancer(E621), Fermented Soya Sauce, Garlic Powder, Sugar, Yeast Extract, Acidity Regulator(330), Stabiliser (E415), Flavor Enhancer(E635).
Powder Base: Salt, Flavor Enhancer(E621), Sugar, Maltodextrin, Dehydrated Shallot, Yeast Extract, Garlic Powder, Flavor Enhancer(E635), Anticaking Agent(E551).

Nutrient:
per 100g: Energy: 1575kJ/375kcal, Fat: 14g, of which saturates: 4.0g, Carbohydrate: 53g, of which sugar: 3g, Fibre: 0g, Protein: 9g, Salt: 0.27g.

Delivery Information
---
Spend £60 for discounted delivery
---
Fresh & Frozen food additional packaging surcharging £4.99 for the first 5 items, add £2.50 for every 5 additional items purchased after.