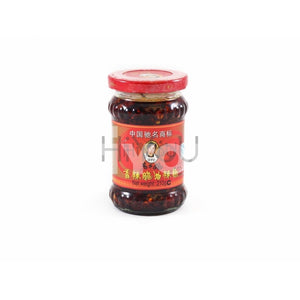 Product Details
Storage condition: Refrigerated after opening.

Ingredient

Soy Bean Oil, Chilli (35%), Onion, Soybean, Salt, Sugar, Sichuan Peppercorn, Flavour Enhancer (Monosodium Glutamate).


Buy Lo Gan Ma crispy chilli oil – the most popular chilli sauce at the best offer! It is filled to the brim with dried chilli and crispy fried onion, all in a richly flavoured oil. Use it as a base for your main meal or to add that extra spice and texture to your mid-week meals – you need to make sure that you have Lao Gan Ma Crispy sauce in your cupboards!
What is Lao Gan Ma Crispy Chilli oil?
Lao Gan Ma Crispy Chilli oil (or Old Godmother) is a brand of chilli sauces that come from China. One of the most popular cupboard staples, Laoganman crispy chilli oil is a delicious mix of thick and crunchy dried chillies, fermented soybeans and Sichuan peppercorn sauce all steeped in rich oil to give the perfect amount of heat and flavour.
How do I use ?
Lao Gan Ma Crispy sauce is one of the most versatile jars on the market. You can use it as a condiment for your main meals, add to ramen for a bit of spice, or season bland dishes to create a moreish menu. Perfect for a dipping sauce or as the base for your next rice dish, Lao Gan Ma crispy chilli oil should be the next item on your shopping list if you are looking for full on flavour.
Lao Gan Ma Chilli in Oil is a well loved brand of chilli oil that you will find in any Chinese grocery store. Wherever you are in China if you ask for Crispy Chilli Oil Lao Gan Ma will almost certainly be the variety you will find. Every jar is bursting with dried chillies for maximum flavour and texture so when you think of Chilli Oil Lao Gan Ma is the name to remember. The spicy, peppery heat will bring a touch of fire to every dish.
How to use
Lao Gan Ma Chilli in Oil is a fantastic way to add a little punch of chilli heat to your dishes and it simply could not be easier to use. You can use it straight out of the jar in cooking or put some in a dish and use it as a table condiment. Mix a spoon into a bowl of ramen noodles to give them some extra zing, or drizzle onto silken tofu with a little sesame and soy to make a simple breakfast that will wake you up and have you ready to face whatever your day might throw at you.
Storage
Lao Gan Ma Chilli in Oil does not need to be kept refrigerated. Simply store your jar in a cool dry place away from direct sunlight.
Lao Gan Ma Chilli in Oil contains Soybean Oil, Chilli, Onions, Preserved Black Beans (Soy Beans and water), Salt, Sichuan Pepper, Sugar and flavour enhancer E621.
Delivery Information
---
Fresh & Frozen food additional packaging surcharging £4.99 for the first 5 items, add £2.50 for every 5 additional items purchased after.