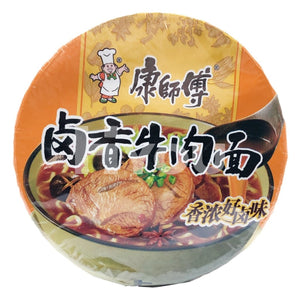 Product Details

Ingredient:
Noodles: Wheat Flour, Palm Oil, Starch, Acetate Starch, Salt, Wheat Gluten, Compound Acidity Regulator (E501, E500, E339, E450, E451, E452, Flavour Enhancer: E621, E635), Compound Thickener (Soybean Protein, Corn Starch, E425, E415, E401, E466), Compound Colour (E965, E101), Antioxidant: E307, E330), Artificial Beef Seasoning (Soybean Products, Soy Sauce, Salt, Glucose, Yeast Extract, Corn Starch, Spices, E635, E150, E415), Chilli, E160, Antioxidant: E307. Powder Pack: Salt, E965, Sugar, Spices, Soy Sauce Powder (Soy Sauce, E965, Salt, Sugar, E621, E150), Yeast Extract, Artificial Beef Seasoning Powder (Soybean Product, Sugar, Soy Sauce, E965, Salt, E635, Glucose, E330, Spices, E150, Antioxidant: E307), E635, E415. Vegetable Packs: Dehydrated Cabbage, Starch, Sugar, Corn Oil, Salt, E420, E451, E452, E339, Antioxidant: E307, Dehydrated Carrot, Dehydrated Spring Onion, Mushroom.

Nutrient:
per 100g: Energy: 1715kJ/322Kcal, Fat: 17.5g, of which saturates: 6.3g, Carbohydrate: 55.4g of which Sugar: 2.6g, Protein: 7.4g, Salt: 2.21g
Delivery Information
---
Fresh & Frozen food additional packaging surcharging £4.99 for the first 5 items, add £2.50 for every 5 additional items purchased after.