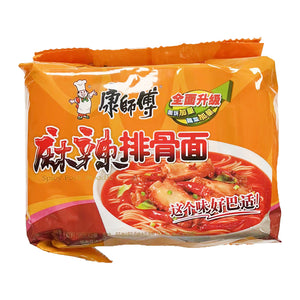 Product Details
Ingredient:
Noodles: Wheat flour, refined palm oil, starch, acetate starch, edible salt, gluten, compound acidity regulator (E501, E500, E452, E339, E451, E450, E621, E635), compound thickener (soy protein isolate, corns starch, E415, E401, E425, E466), emulsifier (E466), colours (E160a, E101(i)), vitamin E. Sauce package: refined palm oil, chilli, soybean paste, green onions, food flavours, Sichuan pepper powder, spicy spare ribs flavour compound seasoning stabiliser (E415), flavour enhancer (E635), compound seasoning (maltodextrin, yeast extract, edible salt, white sugar, food flavour). Vegetable package: fried soybeans, dehydrated cabbage, seasoned starch cubes (starch, sugar, corn oil, edible salt, E420, E451, E450, E452, E160e, E307), artificial pork (soybean products, soy sauce, sugar, salt, E621), dehydrated onion. 
Nutrient:
per 100g: Energy: 2037kJ, Fat: 28.4g, of which saturates: 1.9g, Carbohydrate: 50.9g, of which sugar: 3.7g, Fibre: 0g, Protein: 7.1g, Salt: 2227mg.
Delivery Information
---
Fresh & Frozen food additional packaging surcharging £4.99 for the first 5 items, add £2.50 for every 5 additional items purchased after.