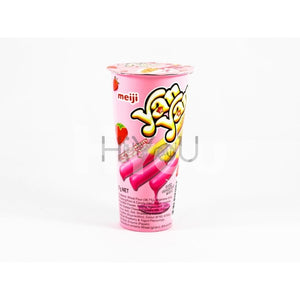 Product Details
Look inside for fun words. This product contains wheat (gluten), milk and soy.

Ingredient
Wheat Flour (38.7%), Vegetable Oil & Shortening (Palm & Canola Oils), Sugar, Lactose, Whole Milk Powder, Raising Agent (503, 500), Yeast, Cheddar Cheese (Contains Milk, Cheese Culture, Salt),
Brand
Meiji
Nutrient

100g per serving: Energy 2240Kj / 530Kcal, Protein 7g, Total Fat 27g, Saturated Fat 13g, Trans Fat 0g, Total Carbohydrate 67g, Sugars 25g, Dietary Fibre 3g, Sodium 362g.
Come to our Asian food online shop and indulge in a tantalising taste of Tokyo when you enjoy what might be Japan's favourite sweet biscuit and dip treat - Meiji YanYan! Inside the tall cardboard cup there are two tasty treats. On one side of the cup you have a luscious and creamy strawberry flavoured dip. The other side holds a bundle of sweet and crunchy biscuit sticks emblazoned with charming animal faces and a whimsical quotation about the animal. Which animals will you get? Can you find them all?
Meiji Yan Yan is made using Wheat Flour,  a blend of vegetable oils, including Palm Oil, Soy Bean Oil, Sunflower Oil and  Hydrogenated Rapeseed oil.  Meiji Strawberry Yan Yan also contains Sugar, Whey Powder, Lactose, Whole Milk Powder, Salt, Emulsifier (E 322), Raising Agents (E500 and E503), Strawberry Powder, Cheddar Cheese Powder, Colour (E162), Flavouring (Strawberry And Yoghurt (Milk), Papain Enzyme, Acidity Regulator (E330). Meiji Strawberry Yan Yan may also contain traces of Sesame.
Each 100g per serving of Meiji Strawberry Yan Yan contains 2240Kj of Energy 2240Kj. That same 100g serving of Meiji Yan Yan delivers 7g of Protein and 27g of Fat – of which 13g are saturates. 100g of Meiji Yan Yan provides 67g of Carbohydrates, 25g of sugar, 3g of dietary fibre and a mere 0.162g of sodium. Meiji Yan Yan is completely Trans Fat free.
Delivery Information
---
Fresh & Frozen food additional packaging surcharging £4.99 for the first 5 items, add £2.50 for every 5 additional items purchased after.