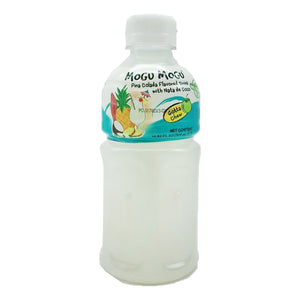 Product Details
Ingredient: Water, Nata De Coco (15%) (Coconut Water, Sugar, Acidity Regulator (E260), Sugar, Fructose Syrup, Acidity Regulator (E330, E327), Pina Colada Flavour, Preservative (E211), Gelling Agent (E418).
Nutrient: Per 100ml serving: 178kJ/42kcal: Fat: 0g, of which saturates: 0g, Carbohydrates: 10g, Sugars: 8.9g, Fibre: 0g, Protein: 0g, Salt: 0.08g.
Delivery Information
---
Fresh & Frozen food additional packaging surcharging £4.99 for the first 5 items, add £2.50 for every 5 additional items purchased after.