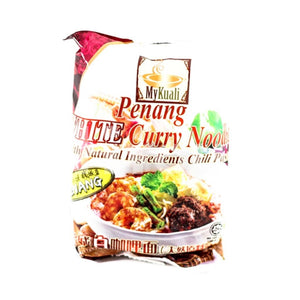 Product Details
Noodle: Wheat Flour(69%),Palm Oil,Salt,Acidity Regulator(Potassium Carbonate E501(Ii)),Raising Agent(Sodium Carbonate E500(Ii)),Emulsifier (Sodium Carboxy Methyl Cellulose E446).Chilli Paste:Palm Oil,Garlic,Onion,Sugar,Curry Powder, Chilli Powder,Salt,Seafood Seasoning Powder,Flavor Enhancer(Monosodium Glutamate E621),Spices Preservative(Potassium Sorbate E202).Soup Sachet: Salt, Flavour Enhancer(Monosodium Glutamate E261),Sugar, Seafood Seasoning Powder.Creamer:Non Dairy Creamer.
Nutrients: 110G Per Serving: Energy 474Kcal/1977Kj, Protein 11.3G, Fat 18.5G, Of Which Saturated Fat 9.2G, Of Which Trans Fat 0G, Carbohydrate 62.9G, Of Which Sugars 24.6G, Of Which Dietary Fiber 7.2G, Sodium 1533Mg.
Delivery Information
---
Fresh & Frozen food additional packaging surcharging £4.99 for the first 5 items, add £2.50 for every 5 additional items purchased after.