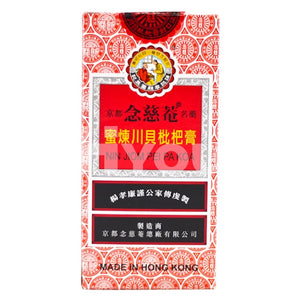 Product Details


Natural Herbs, Loquat & Honey Extracts - Known popularly in the Chinese as " Pei Pa Koa" was originated by Nin Jiom of Beijing in the Qing Dynasty. Nin Jiom Pei Pa Koa is made of a variety of precious natural herbs and honey. It has been very popular for centuries because its remarkable effectiveness in thirst quenching and moistening the throat. Recommended Administration: Adult aged over 12 : One tablespoonful (15ml), 3 times a day. Children aged 7- 12: 2/3 tablespoonful (10ml), 3 times a day; Children aged 3-6: 1/3 tablespoonful (5ml), 3 times a day. Or take according to doctor's advice. Dilute in warm water or swallow slowly the syrup. Storage: Preserve in tightly closed container. Place it in cool area / refrigerator. Keep it out of the reach of children.

Ingredient
Bulbus Fritillariae Cirrhosae 0.852%, Folium Eriobotryae 0.195%, Radix Adenophorae 0.027%, Poria 0.027%, Exocarpium Citri Grandis 0.120%, Radix Platycodonis 0.072%, Rhizoma Pinelliae Preparatum 0.027%
Brand
Nin Jiom
Delivery Information
---
Spend £60 for discounted delivery
---
Fresh & Frozen food additional packaging surcharging £4.99 for the first 5 items, add £2.50 for every 5 additional items purchased after.