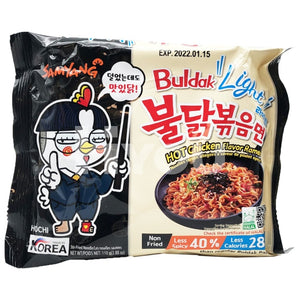 Product Details

Ingredient: Noodles (72.7%): Wheat Flour, Modified Potato Starch, Modified Tapioca Starch, Wheat Gluten, Salt, Emulsifier (Soy Lecithin E322), Onion Extract, Acidity Regulator (Potassium Carbonate E501ii, Sodium Carbonate (E500i), Sodium Phosphate Dibasic (E339ii), Herb Extract. Sauce 26.5%: Water, Soy Sauce, White Sugar, Artificial Chicken Flavour Powder, Artificial Chicken Flavour, Chilli Pepper Powder, Red Pepper Powder, Soybean Oil, Onion, Flavour Enhancer (Monosodium L-Glutamate E621), Red Pepper Seed Oil, Garlic, Modified Potato Starch, Paprika Extract, Decolourised Chilli Extract, Black Pepper Powder. Curry Powder Flake (0.8%): Roasted Sesame, Roasted Laver.

Nutrient: per 100g: Energy: 1445kJ/345kcal, Fat: 2.7g, of which saturates: 0.5g, Carbohydrate: 70.0g of which Sugar: 4.5g, Fibre: 2.7g, Protein: 9.1g, Salt: 1155mg.
Delivery Information
---
Fresh & Frozen food additional packaging surcharging £4.99 for the first 5 items, add £2.50 for every 5 additional items purchased after.