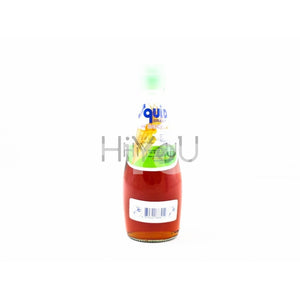 Product Details
Squid
Brand
Fish Sauce is authentic Thai fish sauce made from fresh anchovies and salt, naturally fermented for 18 months to achieve high quality fish sauce, rich with natural protein, giving it a fragrant aroma and a clear, reddish brown color. With its robust Flavour, Squid
Brand
fish sauce is ideal not only for stir-frying, marinating, but also for dipping. No Added Monosodium Glutamate (MSG). No Added Preservatives. No Added Colors. Free Glutamate may be naturally present. This product contains fish (anchovy).

Ingredient

Anchovy Extract 77%, Salt 20%, Sugar 3%.

Brand

Squid
Brand
Nutrient

100ml per serving: Energy 226Kj / 53Kcal, Fat 0g, Saturated Fat 0g, Carbohydrate 0g, Carbohydrate 2.0g, Sugars 1.5g, Protein 11g, Salt 21.875g.
Delivery Information
---
Fresh & Frozen food additional packaging surcharging £4.99 for the first 5 items, add £2.50 for every 5 additional items purchased after.