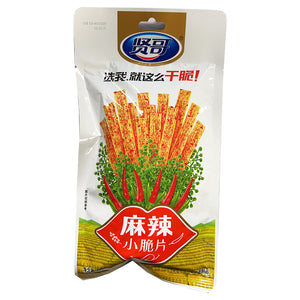 Product Details
Ingredient:
Wheat Flour(75%), Water, Vegetable Oil, Salt, Sugar, Spices, Chilli Powder, Food Additives (Monosodium Glutamate (E621), Emulsifier (Glyceryl Monostearate), Sweetener (E952, E955, E961), Flavour Enhancer (E635), Antioxidant (E319), Bulking Agents (E450i, E500ii, E341i, E1701), Colouring Agent (E100i, Monascus Red, Paprika Red)), Food Flavouring.
Nutrient:
per 100g: Energy: 1973kJ/471.3kcal, Fat: 27g, of which saturates: 0g, Carbohydrate: 49.5g, of which sugar: 1.6g, Fibre: 0g, Protein: 7.8g, Salt: 1.589g. 

Delivery Information
---
Fresh & Frozen food additional packaging surcharging £4.99 for the first 5 items, add £2.50 for every 5 additional items purchased after.