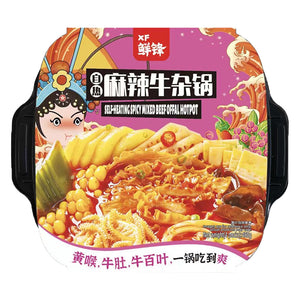 Product Details
Ingredient
: Spicy Flavour hotpot seasoning: Soybean oil, salt, chili pepper, broad bean sauce (chili pepper, broad bean, salt, wheat (gluten) flour), Sichuan pepper, grain spirit, ginger, garlic, sugar, green onion, fermented soybean, yeast extract, pepper, fennel, anise, cinnamon, liquorice, orange peel, flavouring, flavour enhancer: E635. Pickle vegetables: Lotus root, corn, potato, kelp, black fungus, bamboo shoots, water, salt, flavour enhancers: E621; E635, acidity regulators: E270; E330, preservatives: E202; E223 (SULPHITE). Cured mixed beef offal: beef honeycomb (30g), beef tripe (35g), beef aorta (35g), rapeseed oil, broad bean sauce (wheat (gluten) flour), chili pepper, Sichuan pepper, fermented soybean, spices. Fresh sweet potato vermicelli: sweet potato starch, pea starch, water.
Nutrient
: (Typical value unit per 100g): Energy: 749kJ/179kcal, Fat: 14.12g, of which saturates 1.7g, Carbohydrate 19.01g of which Sugar 0g, Protein: 3.06g, Salt: 3.57






Delivery Information
---
Fresh & Frozen food additional packaging surcharging £4.99 for the first 5 items, add £2.50 for every 5 additional items purchased after.