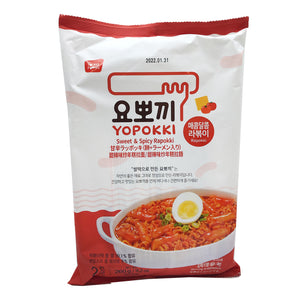 Product Details
Ingredients: Ingredient: Wheat Flour 22%, Palm Oil, Tapioca Starch, Salt, Glycerine, Soybean Oil, Water, Lecithin (E322), Glycerin Fatty Acid Ester (E471), Potassium Carbonate (E501), Sodium Carbonate (E500), Disodium Phosphate E339, Guar Gum E412, Dextrin (E1400), Tocoperol, Cyclodextrin (E459), Starch, Riboflavin (E101), Citric Acid (E330), Tea Catechin, Sugar, Red Chilli Powder, Tomato Powder, Monosodium Glutamate (E621), Hydroxypropyl Phosphoric Acid Starch, Maltodextrin (E1400), Welsh Onion, Onion Powder, Garlic Powder, Oleoresin Paprika (E160c), Disodium 5'-Ribonucleotide (E635), Aspartame (E951).
Nutrient:Nutrient: per 100g: Energy: 1416kJ/337kcal, Fat: 4.2g, of which saturates: 1.2g, Carbohydrate: 69.6g, of which Sugar: 5.8g, Fibre: 0g, Protein: 5.0g, Salt: 2.4g.
Delivery Information
---
Fresh & Frozen food additional packaging surcharging £4.99 for the first 5 items, add £2.50 for every 5 additional items purchased after.